Photo Gallery - Page 5
U.S. Wrecks


Down and out
This battle-damaged F4F-4 was photographed on the 'Canal in November '42. Apart from visible damage (bullet holes and dangling life raft), the instruments have been removed as parts have been scavenged to keep others flying.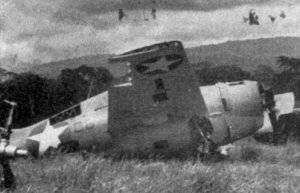 The attrition continues
One more Wildcat finds its career ended by Japanese shell fire. Next to its battered carcass is the propeller of another Wildcat, while the panel for the life raft compartment (by the side fuselage star insignia) has been removed. Note the anti-aircraft bursts on the horizon.
(Source: Wings magazine, October 1998)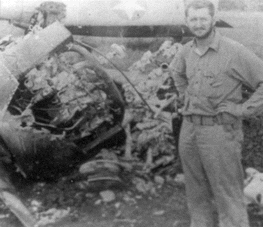 The night brings no respite
2nd Lt. Roger Haberman stands next to the pulverized remains of a Wildcat that was destroyed by shells from Japanese battleships and cruisers during the nights of October 13-14. Over 900 big shells hit Henderson Field on the first night, and over 750 hit the second night. Most of the aircraft, aviation gasoline, and Martson matting was destroyed by the shelling. Forty-one men were killed. On the following day Haberman was returning to land his smoking Wildcat at the Fighter One strip, when he saw a Zero chasing General Geiger's PBY (the "Blue Goose"), which was returning from its famous torpedo attack on the Japanese transports offshore. Haberman saved the PBY by shooting down the Zero, without even taking the time to crank up the landing gear on his damaged fighter. It was his first kill.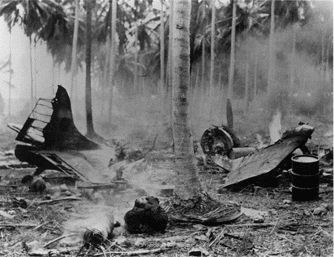 One less dive bomber
This American SBD Dauntless dive bomber was destroyed on the ground during a Japanese bombing raid in August 1942. Losses mounted as the campaign went on; aircraft were shot down in air combat, blown up in bombing raids and during enemy naval shelling, and lost in operational accidents. Luckily the U.S. was able to re-supply the losses, though it was often touch-and-go. (Click HERE to see a larger, clearer version of this photo.)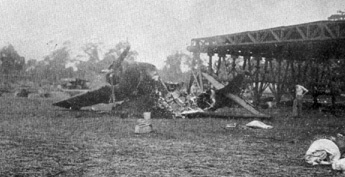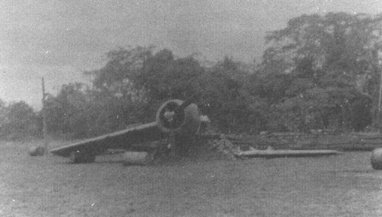 End of a Wildcat
Japanese bombing and strafing attacks on afternoon of August 29, 1942 inflicted heavy damage and caused many fires on Henderson Field. Efforts to save this F4F Wildcat were to no avail. These photos were taken the following day.
(Source: "Guadalcanal - The Island of Fire" by Robert Lawrence Ferguson)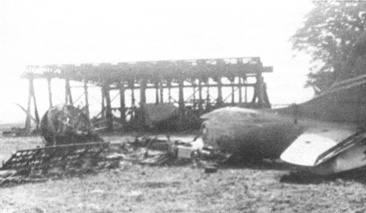 Another pile of Dauntless ashes
The Japanese air raid of September 1, 1942 set many fires on the field. An SBD Dauntless dive bomber was consumed despite efforts by ground crews to put out the fires.
(Source: "Guadalcanal - The Island of Fire" by Robert Lawrence Ferguson)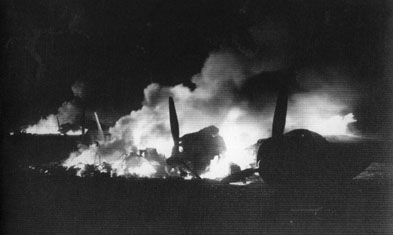 No spare parts to save from this one
A nighttime attack on Henderson Field claims another American aircraft. This one appears to be an Army Air Corp B-17 Flying Fortress.
(Source: "This Is Guadalcanal" by L. Douglas Keeney and William S. Butler)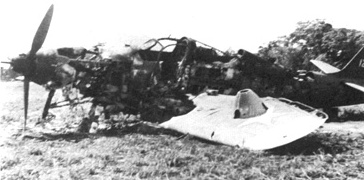 Left as a decoy
P-39/P-400 number 12 got a flat tire while taxing and became a victim of Japanese Zeros strafing the airfield. It was left in position as a decoy and often drew the fire of strafing Zeros. September 1942.
(Source: "Guadalcanal - The Island of Fire" by Robert Lawrence Ferguson)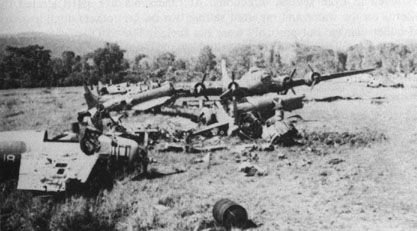 The boneyard
The boneyard of wrecked planes on the edge of Henderson Field, mid-October 1942. A VMF-223 Wildcat lies on its back in the left foreground, with a VS-5 SBD farther back. An 11th Bomb Group B-17 sits in the distance.
(Source: Col. F.C. Drury via The First Team and the Guadalcanal Campaign by John Lundstrom)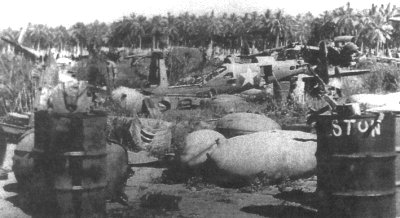 P-400s in the boneyard
Amidst other aircraft, a wrecked P-400 sits with other scrapped materials.
(Source: Warbirds International, July/August 2002)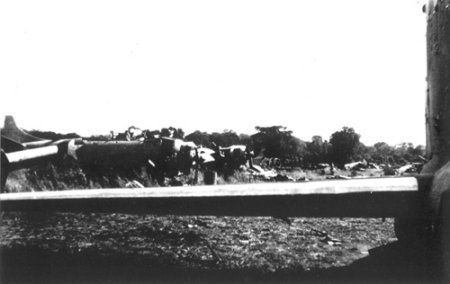 More scrapped Airacobras
Two more Aircobras make the boneyard their home. Since spare parts were hard to come by, all useable parts were taken off the boneyard planes (instruments, engines, guns, you name it) to keep the other Cactus aircraft flying.
(Source: Stan Jersey)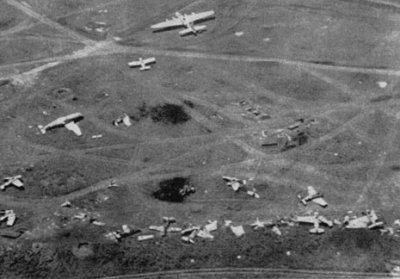 Henderson Field after the shelling
Wreckage strews shell-blasted Henderson Field after a pounding by the big guns of the Imperial Fleet in October 1942. At top of photo, an Army B-17 prepares to take off next to an F4F. Littering the perimeter behind them are the crushed remains of F4Fs, SBDs, TBFs and at middle left, a C-47 with one of its wings blown off.
(Source: Wings magazine, October 1998)

Click HERE if navigation menu is not visible on the left