Photo Gallery - Page 8
Scenic Locales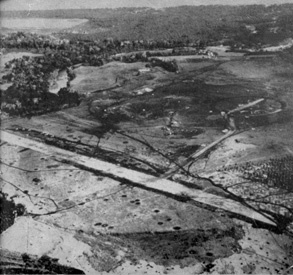 Aerial view of Henderson Field, August 1942
The main runway is the wide diagonal line running from left to right.
(Click HERE to see a larger, clearer version of this photo.)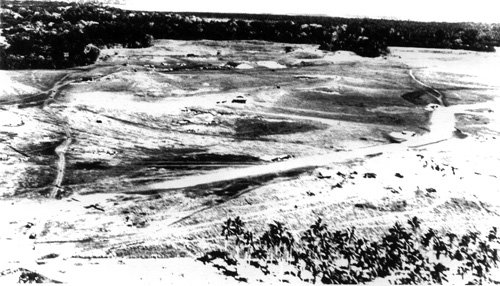 Another aerial view of Henderson Field
What appears to be the Pagoda is just above the center of the photo, which places this photo in the August to October 1942 timeframe.
(Source: Stan Jersey)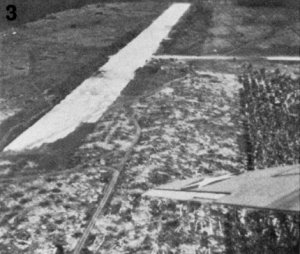 Yet another view of Henderson from the air
This photo is similar to the one at the top of the page, from a closer vantage and a different angle. Note the aircraft wing in the right foreground.
(Source: Wings magazine, April 1992)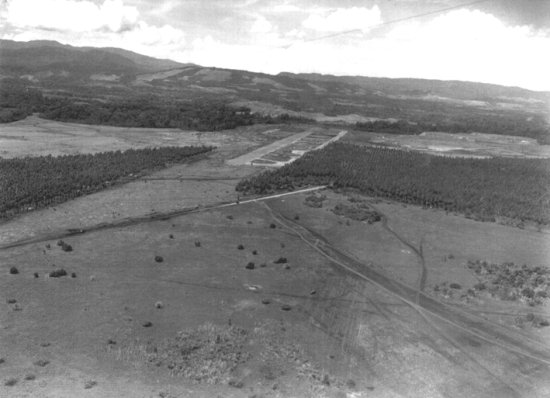 Henderson Field,again
I'm running out of different things to say. It's an aerial view of Henderson Field. Enough said.
(Source: Stan Jersey)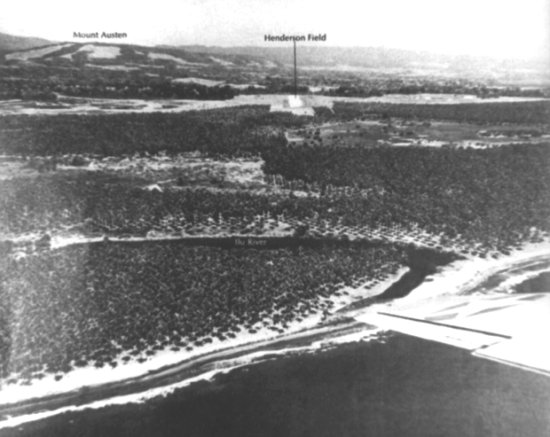 Henderson Field from a distance
Henderson Field and Mt. Austen can be seen in the far distance, with a river running down to the ocean and a plane's wing in the foreground. This photo was taken in late August 1942, after the Battle of the Tenaru.
(Source: Stan Jersey)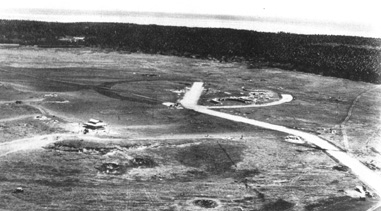 The circular ramp area of Henderson Field
The same area seen on the middle right of the previous photo, viewed from a different vantage point. The famous 'Pagoda' building is clearly visible on the left.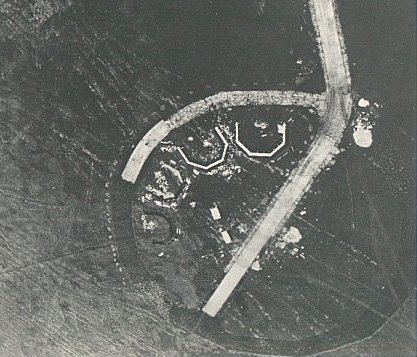 Overhead view of the circular ramp
This is the center of the airfield that the Japanese had under construction, which prompted the U.S. invasion of the island. You can see aircraft revetments and other structures within the circular taxiway, only a portion of which is finished.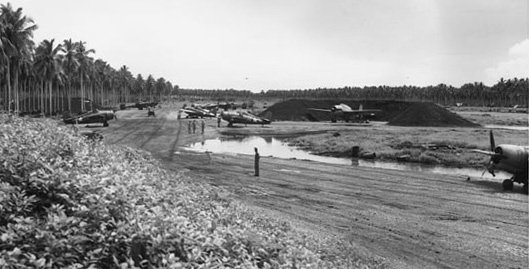 A parking area and taxiway of Henderson Field
A number of Wildcats are parked along the muddy taxiway (note the size of the puddle), while an Avenger sits semi-protected within a dirt revetment that will hopefully protect it from from bomb blast damage.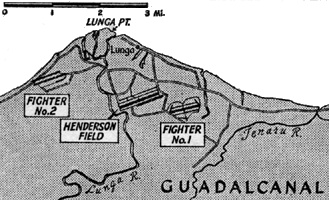 Location of the airfields on Guadalcanal
This 1943 map shows where the airstrips were located in relation to Lunga Point, and the Lunga and Tenaru Rivers. The Fighter 2 strip was built after the November battles, and used from December 1942 to May 1943. It filled the same role as Fighter 1, which was frequently unusable during the rainy season.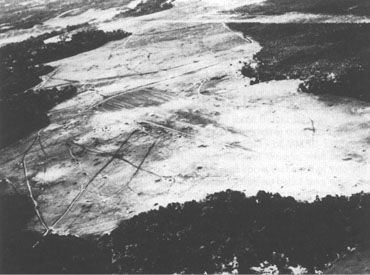 Aerial view of Fighter One
Fighter Field No. 1 with Henderson Field (Bomber Field No. 1) beyond. Photo taken by an Enterprise plane on November 16, 1942.
(Source: The First Team and the Guadalcanal Campaign by John Lundstrom)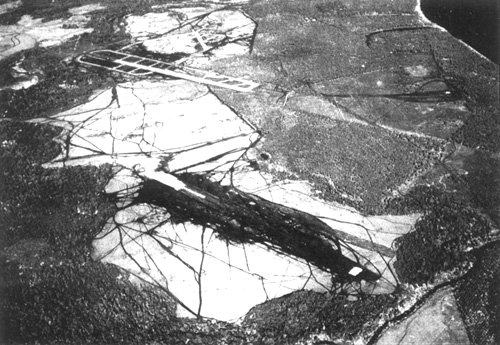 Fighter One and Henderson as they were later in the war
The Fighter One strip (dark area in the foreground) and Henderson Field (the white-striped area in the upper right) show further development in this late war photo.
(Source: Stan Jersey)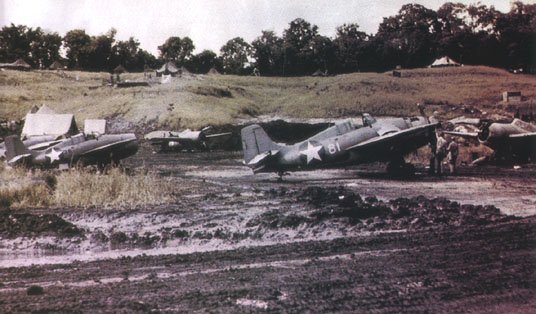 Fighter One airstrip, aka: "The Cow Pasture"
This rare color photo shows F4Fs at Fighter One's improvised repair area. (Note the left-most F4F is missing its prop.) Pilot's tents are up on the hill, while the foreground shows the much-reviled oozing sea of mud that was a common feature of the island. Three-quarters of a mile from Henderson Field, the Fighter One strip handled the F4Fs for much of the campaign.
(Source: Wings magazine, October 1998)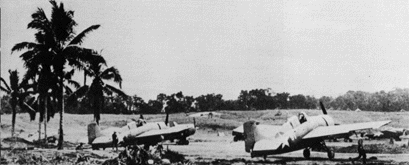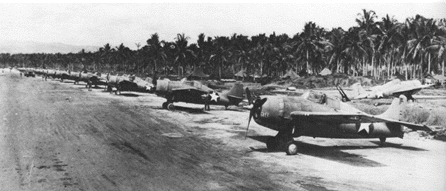 More views of "Fighter One", the Cactus fighter airstrip
Here are two more views of the Fighter One airstrip.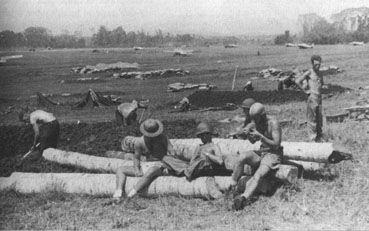 VF-5 Rest area
In late September VF-5 pilots Cash Register, Junior Kleinemann, and George Morgan rest on downed palm trees near the VF-5 ready tent, while Marines emplace 75mm pack howitzers. VF-5 F4Fs are parked in the background at the east end of Henderson Field. This rest area was often used by pilots for singing sessions as well as "shooting the bull".
(Source: The First Team and the Guadalcanal Campaign by John Lundstrom)

Click HERE if navigation menu is not visible on the left