Photo Gallery - Page 6
Targets Destroyed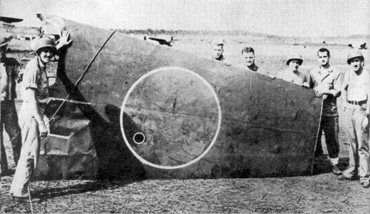 Souvenir of an air raid
Marines display the wing of a Japanese bomber blown to bits over Guadalcanal.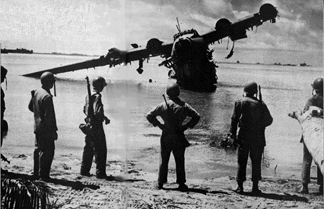 End of an Emily
The Kawanishi H8K long-range patrol flying boat (code-named 'Emily' by the Allies) was a highly respected and capable aircraft. Their speed and armament sometimes made them tough to bring down, but it could be done. Here a group of Marines from the 3rd Battalion of the 2nd Marines surveys an Emily destroyed just off shore of Gavutu Island in Tulagi Harbor. The Emily had flown to Gavutu to deliver an urgent shipment of aviation oil for the Japanese H6K Mavis flying boats stationed there.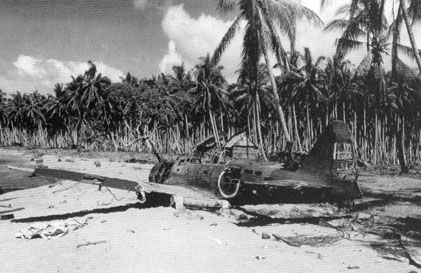 No longer seen as invincible
The much vaunted Japanese Zero fighter had an impressive reputation in the beginning of the war, but the pilots of the Cactus Air Force proved that a sturdy well-built American fighter in the hands of a trained U.S. pilot could beat the Zero and win the air war against the Japanese. Many unreplaceable highly trained Japanese pilots and crewmen were lost during the Battle of Midway and during the long bitter Solomons campaign. These losses were a blow from which the Japanese were never able to recover, and which affected the outcome of battles during the remainder of the war.
(Source: "This Is Guadalcanal" by L. Douglas Keeney and William S. Butler)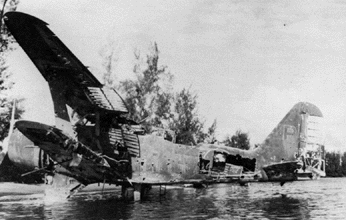 Another victory for the Cactus Wildcats
This Mitsubishi F1M float plane (Allied codename: "Pete") was downed by U.S. aviators in the Solomons. The Japanese float fighters were surprisingly capable and aggressive, though they were usually not a match for a well-flown U.S. fighter.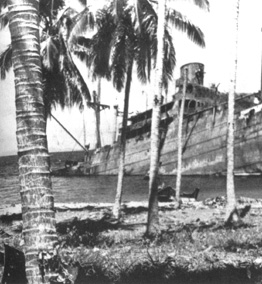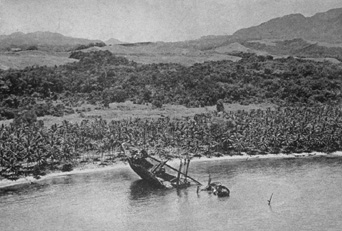 No more trips for these "Tokyo Express" ships
Two Japanese troop ships lie beached on the shores of Guadalcanal after repeatedly being blasted by Cactus aircraft. The troops on these and other ships that failed to reach Guadalcanal would have changed the course of the land war on the island. The American control of the island was frequently tenuous, and the destruction of these ships was a blessing for the ground Marines ashore. (Click HERE to see a large color photo of one of the above ships from a different angle.)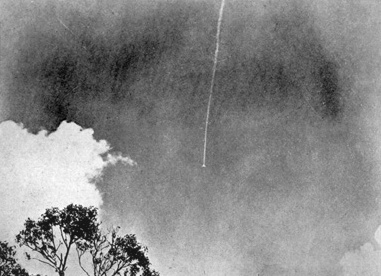 One less enemy in the skies overhead
A Japanese plane trailing smoke is seen plummeting to earth after being shot down by American fighters.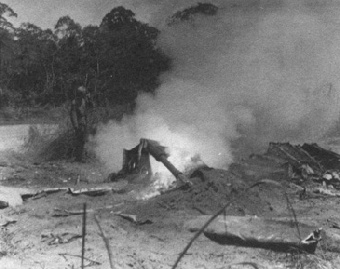 Betty's grave
September 12, 1942. The waters of the Lunga River can be seen in the background as this Japanese bomber, shot down by fighters near Henderson Field, lies burning on the river bank. A young Marine looks over the crash scene.
(Source: "Guadalcanal - The Island of Fire" by Robert Lawrence Ferguson)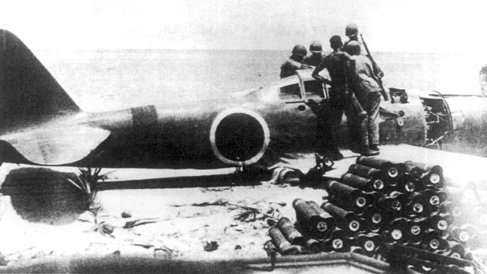 Another downed Zero fighter
U.S. soldiers inspect a Japanese Zero fighter on the beach at Verhue in February 1943.
(Source: Stan Jersey)

Click HERE if navigation menu is not visible on the left